The Hack Driver Who Started a Church
Wherever you look, there are stories.
I'm just back from a trip to Portland, Maine, in search of any tidbits of information I could find about James Pennington who spent less than a year and a half toward the end of his life serving an African American church in that community.
The church, built in 1828, is the second oldest surviving church built by African Americans for their own use. It was abandoned as a church in 1914 and converted into apartments. That use also came to an end and the building was abandoned, taken over by the city, and eventually bought by a committee dedicated to restoring it. That restoration has begun but has a long way to go.
That's the story. Then there's the story behind the story. The land for the church was purchased for $250 by Reuben Ruby, who ran a hack stand in Portland. When the restoration committee bought the abandoned building from the city, the price was $250 and the check was handed over by Reuben Ruby's great-great-great grandson.
Then there's the untold story of Reuben Ruby himself who, at a time when slavery was still legal in much of New England had managed to buy not one but two hacks, set up a hack stand at the Elm Tavern, and go into business. He published an ad in the local paper promising that "every attention will be paid to those who wish to be conveyed to different parts of the city." And with some of the money he made, he bought the land for a church.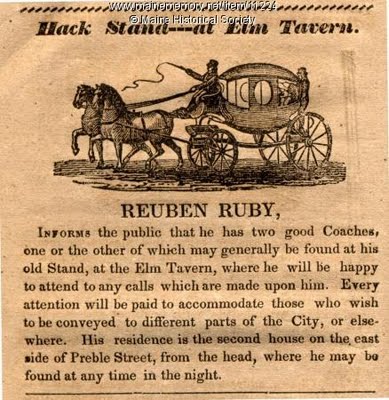 The story of the African American contribution to the life of this country is not simply the story of leaders like James Pennington and Frederick Douglass and others like them, but the untold story of the people like Reuben Ruby who found a way to buy into the "American dream" and bought and built the churches where Pennington and others helped form a new community.