Syrup Season
Two feet of snow in some parts of the state got the headlines, but the more significant news is a projected week of temperatures right for the sap to run: above freezing by day, below freezing at night.  With two feet of snow out there this is a potential disaster for people on the roads – but just what we need for those whose thoughts turn to syrup at this time of the year.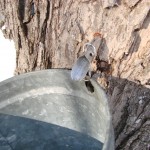 With the snow this deep, I can't even get to my best trees – but there are others.  There are trees I never tapped last year because there was so little snow that I could establish a sugar bush away from the road.  So, yes, I would prefer the larger stand of trees away from the road but we will make do with what we have.
What matters is that the first  buckets have been hung.  Syrup season is here.