The Peaceable Kingdom
Sometimes we take the wildlife in these parts for granted. Sometimes it gets our attention. Lately it's had my attention. Consider:
Two or three days ago I picked up some dead branches of honeysuckle that I had cut weeks before and that were impeding my mowing. A small creature ran out and into the nearby wooded area. I couldn't quite identify it: larger perhaps than a chipmunk but smaller than a squirrel and brown in color. I got back on the mower and headed into the newly cleared high grass area and suddenly three or four more of the creatures took flight also. Baby rabbits: Flopsy, Mopsy, Cottontail, and Peter. I assume Peter was the first to be startled. Like Mr MacGregor, I am not entirely pleased to learn that there are rabbits on the property. I think they will have trouble accessing my garden but I will be ready with my hoe if they show up.
Bluebirds have nested in a box in the garden and there was a scarlet tanager on the deck yesterday. A pair of cardinals come by fairly often and the hummingbirds are back.
Yesterday morning, I set out for church about ten after nine and hadn't gone far when a deer leaped across the road. Half a mile further on a red tailed hawk swooped low over the car. Not far beyond, another deer ran across the road. (Twice recently I have startled young fawns so small that when they ran into the high grass beside the road they disappeared.) Continuing on a few miles I was interested to see a pair of great blue herons fly low across the road. Before I reached my destination, I also saw a pair of human beings out looking at their garden. I drove nineteen miles and saw only the two humans.
This morning as we were making the bed I saw what I thought at first was a dog going past below the bedroom window. It was a black bear. It walked on by and disappeared across the road.
All this brought to mind the remark one of the children made many years ago when we came back from Japan by way of Russia after three years in the middle of Tokyo. We arrived at last in a Rectory in Shropshire where we would spend a month and the children looked out the window to see sheep grazing in a meadow and cows in the distance. One of them said, "Are we in a zoo?"
It's a relevant question these days.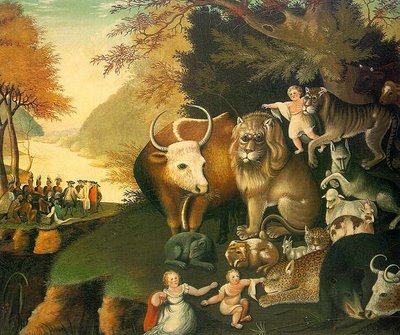 Edward Hicks: The Peaceable Kingdom