To Ocean's Farthest Coast . . ."
"Or like stout Cortez, when with eagle eyes
He stared at the Pacific—and all his men
Look'd at each other with a wild surmise—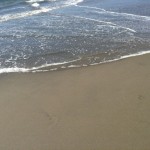 Silent, upon a peak in Darien."
It's taken two weeks and a few days but I finally took the last few steps to find myself on the brim of"ocean's farthest coast,"  that western sea that "stout Cortez" with his eagle eyes "stared at . . . . silent, upon a peak in Darien."  It's a long way from Connecticut but if you are looking for change, the leap from a dirt road in Connecticut to the corner of 19th and Lawton in San Francisco certainly qualifies.
It's been almost twenty years since we moved from the suburbs of New York to the forested hills of Litchfield County and some wonderful years in a home of our own.  We've always known the time would come when we needed to be nearer to family and this was that time.  Our daughter Caroline and her husband and their two children seemed best positioned to provide the support we need and they have been marvelous about scouting out alternative housing and getting it ready for us to move in.
Vintage Golden Gate is a relatively small retirement community located in a former Masonic children's hospital on a busy street in the Sunset area of San Francisco.  It's within walking distance of Golden Gate Park to the north and (2.3 miles) of the Pacific Ocean to the west.  I made that walk today – over and back in well under two hours.  So now I've seen it for myself and know exactly where we are in continental terms.
Those interested in a mailing address can use 1601 19th Avenue, San Francisco, 94122, but the same e-mail address is good.  The web site is till there as well and I will get back to doing some regular postings.  We've left behind a number of good friends on the east coast but in this era of instant communication we do hope to hear from you.