Freeedom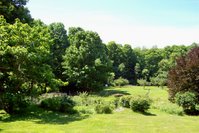 Unmarked and, indeed, unnoticed, I passed an anniversary last Sunday: one year ago, I retired for the second time. Last year, on the first Sunday of July, I went to an early service at a neighboring church and came home and read the paper. For the first time in fifty years, except for vacations and sabbaticals, I had no Sunday duty beyond that of every Christian.
This year, on the first Sunday of July, I conducted services in another neighboring church at 8 and 10. It felt much more normal.
Perhaps, however, I was aware subconsciously of the occasion since I made some remarks about retirement in my sermon. "Stand fast," we had read from St. Paul's letter to the Galatians, "in the freedom with which Christ has set you free."
So is retirement freedom? It doesn't feel like it. Last week I traveled on successive days to New York City, New Haven, Hartford, and New Haven again. I did some research, kept two medical appointments, met with diocesan clergy and the Presiding Bishop, and took part in the consecration of a new bishop. The next day was Sunday and there I was, back at the altar. As a result, the weeds gained ground in the garden and my current writing projects made no progress.
But freedom from all that would be a life without meaning or purpose. Freedom from is empty. Freedom for has a purpose.
A priest has a life with enormous freedom. One lives into a role as preacher, teacher, counselor, and, above all, the chief celebrant when the Christian community gathers to celebrate the gift of life. If one is truly called to be a priest, you are free to become who you were meant to be. Retirement brings the opportunity to explore new dimensions of that freedom. There's more time for reading, thinking, praying, writing, and less constraint of Vestry meetings and organizational trivia.
There is also time to appreciate creation. I used to come across people in hospital beds when I was doing my rounds who were lying there complaining that they had always been active and now felt useless. I would tell them to look out the window and notice the sun and clouds. "How would you feel," I would ask, "if you were God and made all that and no one ever noticed?"
Over breakfast we watch as the birds come to the feeder: a cardinal, gold finches, nuthatches, chickadees, rose breasted grosbeaks, and many more – a constant kaleidoscope of color. And I have the freedom to notice. It's a gift for which, even now, I am too seldom grateful.